GLP-1 Weight Management (semaglutide)
GLP-1 Weight Management (semaglutide)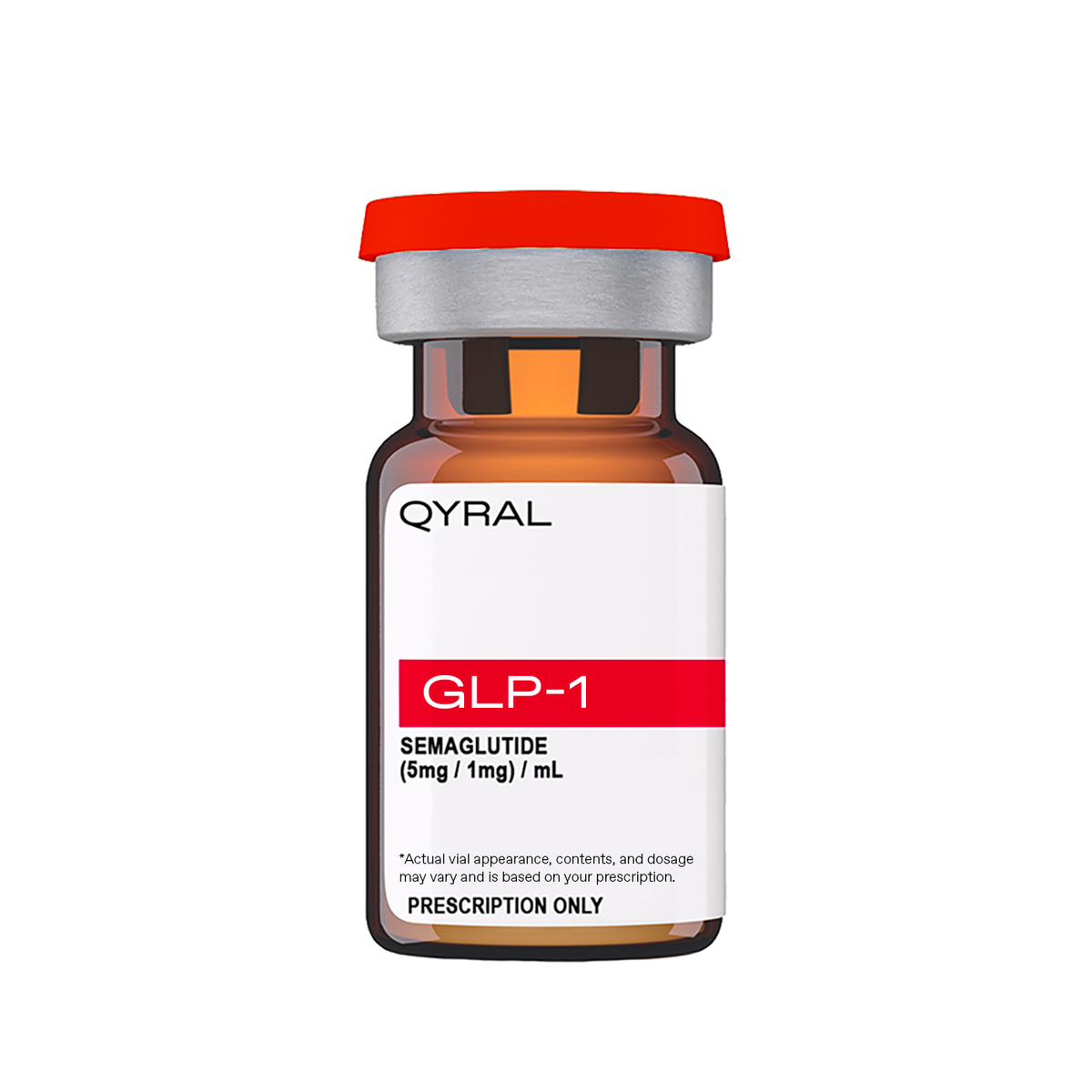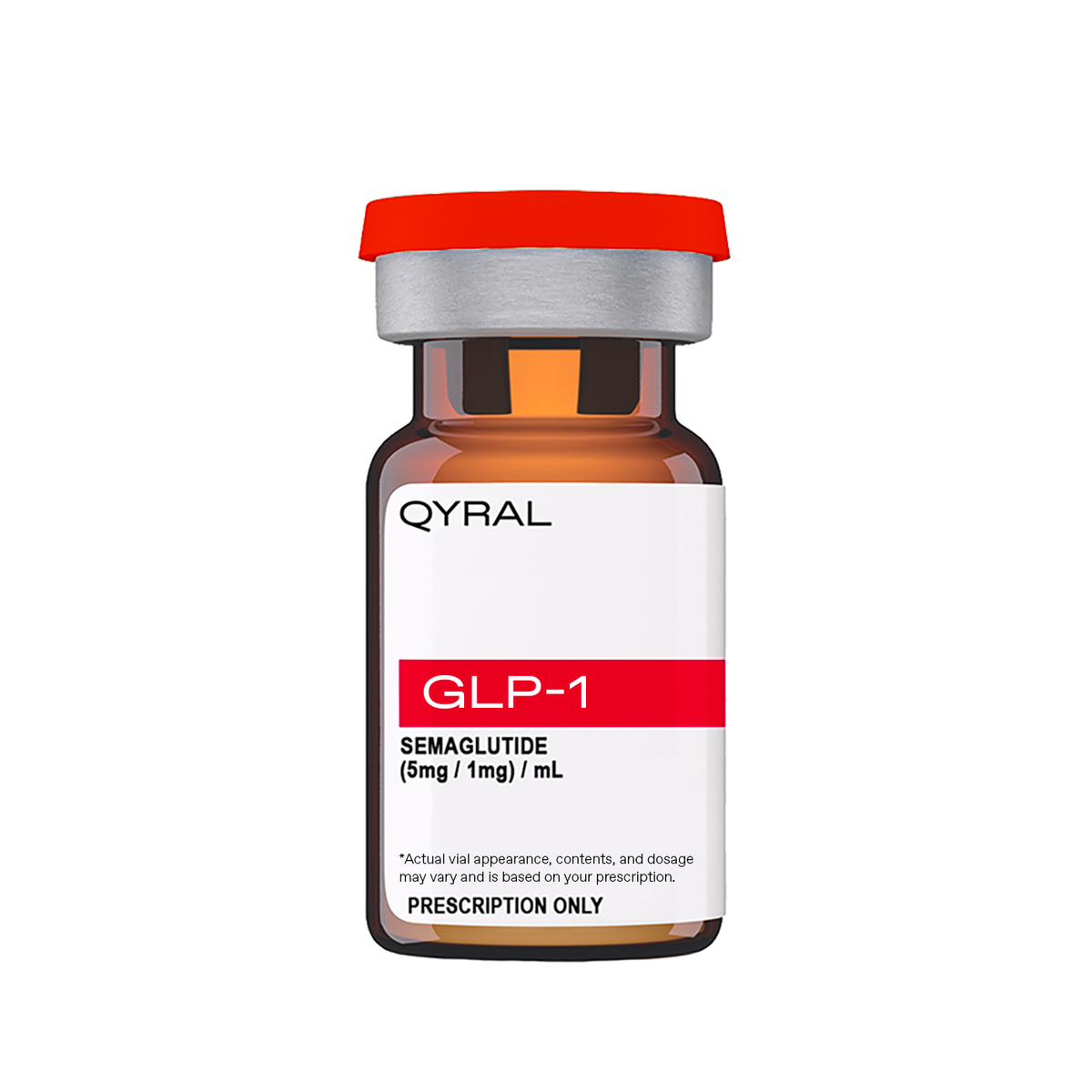 Available
Price varies based on final dosage.
Dosage pricing explained
We're sorry, but to buy this product you need to complete the questionnaire
you are under 18 years of age
you are pregnant or nursing
your BMI does not meet the required qualifications
your BMI does not meet the required qualifications
you reside in a currently unsupported state
you have history of type 1 diabetes
you have history of diabetic retinopathy
you have history of MEN-2 disease
you reside outside of the United States
Lose up to 15%+
Semaglutide: In 3 separate clinical trials involving non-diabetic patients, individuals who received semaglutide at a dose of 2.4 mg/week, along with following a reduced-calorie diet and increasing physical activity, experienced an average weight loss of 15% of their body weight over the course of 68 weeks. Source: https://www.nejm.org/doi/full/10.1056/NEJMoa2032183
Weekly injections
Side effects may include nausea, diarrhea, vomitting, constipation, abdominal pain.
3-Month Subscription
90 day supply, billed monthly
Option to renew every 3 months
Option to cancel every 3 months
Order Fulfillment
Doctor review: 1-2 days
Processing: Up to 10-15 days
(subject to pharmacy partners)
Shipping: overnight
GLP-1 Weight Management (semaglutide) includes doctor & medication with no hidden fees or insurance required
Personalized prescription appetite suppression: Semaglutide activates GLP-1 receptors in the body, curbing appetite and reducing food cravings, promoting weight loss by creating a customized calorie deficit.
Scientifically backed weight loss aid: Semaglutide is an effective weight loss aid, as demonstrated in clinical trials where some patients shed up to 15% of their body weight by limiting calorie intake and reducing appetite.
Metabolic health booster: Semaglutide improves metabolic health by lowering blood sugar levels, improving insulin sensitivity, and decreasing the risk of health problems that often accompany obesity such as type 2 diabetes, high blood pressure, and cardiovascular disease.
Enhanced quality of life: Semaglutide helps individuals achieve a healthy weight, reducing fatigue, joint pain, and mobility issues associated with excess weight, and enhancing energy levels for an overall improvement in quality of life.
* The total mg of may vary depending on the pharmacy and state providing services.
** Typical patient dosing schedule. Your Qyral doctor will determine your final dose and schedule after your consultation.

Pricing is per month and entails a 3-month minimum commitment.
NEW AND CURRENT CUSTOMERS
You will be able to switch the tier every 3 months during regular assessment based on your progress and goals.*Your dosing plan might vary based on the recommendations from your doctor. Total units in vials vary by pharmacy, you will always receive enough for the given dosing schedule.
Returning customer is a previous Weight Management Program subscriber who has voluntarily ended their subscription but desires to resume or reactivate their membership.
GLP-1 is a hormone that is naturally produced in the body and is involved in regulating blood sugar levels. However, it has also been found to play a role in appetite regulation and weight management. GLP-1 receptor agonists are medications that mimic the effects of GLP-1 in the body and can be used for weight loss. These drugs work by reducing appetite, increasing feelings of fullness, and slowing down the emptying of the stomach which helps reduce caloric intake and leads to weight loss. In addition to promoting weight loss, GLP-1 receptor agonists have been shown to improve blood sugar control, lower blood pressure and cholesterol levels, and reduce the risk of cardiovascular disease. They also have a lower risk of causing hypoglycemia compared to other weight loss medications, making them a safer option for people with type 2 diabetes who are also struggling with obesity. Overall, GLP-1 receptor agonists are a promising new class of medications for weight loss and improving metabolic health.
Our prescription weight management product is a customized compound that utilizes semaglutide as its primary ingredient to support weight loss and metabolic health. Scientifically proven to activate GLP-1 receptors, Semaglutide effectively reduces appetite and promotes weight loss. Depending on your prescription, the state and region, our product may also include additional ingredients such as Vitamin B6, Vitamin B12, Carnitine, or an equivalent, for added metabolic support. Regardless of the specific compound, our goal is to provide a scientifically backed product that addresses the root causes of excess weight and supports individual weight loss goals.
Compounded semaglutide injections are a medication that must be used with caution and under the guidance of a healthcare professional. It is important to follow your doctor's instructions regarding dosage, timing, and administration of the medication. Always read the instructions provided by your pharmacy carefully and ask any questions you may have before using the medication. It is essential to never alter the dosage or frequency of Semaglutide injections without consulting your doctor first. By following your doctor and pharmacy's instructions, you can safely and effectively use compounded semaglutide injections to support your weight loss goals.
FREQUENTLY ASKED QUESTIONS
Semaglutide is an FDA-approved medication used for the treatment of type 2 diabetes and long-term weight management.

Qyral's healthcare providers will prescribe a compounded version of semaglutide, which may also include additional metabolic support ingredients such as Vitamin B6, Vitamin B12, Creatine, BPC 157, Carnitine, or an equivalent, depending on the state and region. The pharmacy that will ship to you depends on your state of residence, and each pharmacy that Qyral partners with has its own unique set of metabolic support ingredients. Therefore, depending on the state, you may receive different metabolic support ingredients from the corresponding pharmacy.
How does semaglutide work?
Semaglutide for weight loss works by reducing appetite and increasing feelings of fullness. It mimics the activity of GLP-1 (glucagon-like peptide-1), a hormone naturally released by your gut in response to food. GLP-1 helps regulate appetite and blood sugar levels in the body.
Is semaglutide the same as brands like Ozempic and Wegovy?
At Qyral, we offer a compounded version of semaglutide with B12 (or equivalent), which is prescribed by our healthcare providers. It's important to note that our semaglutide is not associated with the Novo Nordisk company or the brand-name medications Wegovy or Ozempic. Our products are compounded in a pharmacy using only the highest quality ingredients.

Choosing our compounded medication over brand-name medications can result in significant cost savings, as brand-name medications can be expensive and cost thousands of dollars. Additionally, one of the benefits of compounded pharmaceuticals is that your healthcare provider can customize the dosage specifically to your individual needs. This personalized approach can lead to more effective treatment outcomes.
Is semaglutide safe? What are the side effects?
Semaglutide is generally considered safe when used as directed and under the supervision of a healthcare provider. However, like any medication, it can have potential side effects. Some common side effects of semaglutide include nausea, vomiting, diarrhea, and constipation. These side effects are usually mild and go away over time. In rare cases, more serious side effects can occur, such as inflammation of the pancreas or kidney problems.

It is important to talk to your healthcare provider about any potential risks and benefits of taking semaglutide, and to report any side effects or concerns promptly.
Who is eligible for semaglutide?
To use semaglutide, there are specific criteria that must be met. You must:

1. Be at least 18 years old.
2. Reside in or physically be located in one of the states where our services are available.
3. Demonstrate the need for medical treatment. If necessary, our team can assist you in obtaining recent lab results if requested by your healthcare provider.
4. Meet the FDA-approved criteria for these medications, which include having a body mass index (BMI) over 30 for individuals with obesity, and a BMI over 27 with a qualifying health condition such as type 2 diabetes, high blood pressure, or high cholesterol.
5. Not have any of the following conditions: Type 1 Diabetes, a history of chronic pancreatitis or pancreatitis caused by weight loss medications (GLP-1), severe gastrointestinal (GI) disease, current gallbladder problems (excluding previous gallbladder removal/cholecystectomy), retinal impairment/diabetic retinopathy, bariatric surgery within the past 6 months, multiple endocrine neoplasia syndrome type 2 (MEN-2), or a history of medullary thyroid cancer.
6. Not be pregnant or nursing.

Your Qyral-affiliated provider will make the final determination regarding your qualification for the weight loss program and may request additional information from you directly.